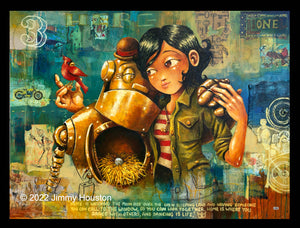 2021
Giclee on Canvas
30" x 40"
Gallery Wrapped
The red bird gathers its dry grass.  With these little pieces of life, it knits together a home.  The egg laid, its hope and future.  In confidence and poise the cardinal sings.
East; she stands as an anchor for the heart.  With key laced around her neck, she dares to unlock.  She is strong to lean dreams on.  Her hands gentle so hope may light.
The tin man, Apollos rests his mind as well as his heart.  He is present.  He is content.  For home is where she is.