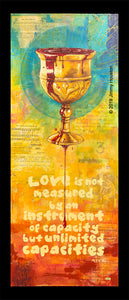 "Love is not measured by an instrument of capacity but unlimited capacities."

          -M.E.E.
When I was first approached about this commission, I was presented with the above poem.  The painting was to reflect the loyal love between a husband and a wife.  We discussed how true love has no container to hold it, no vessel that can keep it. At that, I was left to develop an image to capture this notion.
Late one evening, just before falling asleep, the image of a cup came into my mind.  It was not just "a cup" it was "THE cup."  What greater image of love is there? The Holy Grail, the cup of Christ, the sacrifice, our communion with Him, overflowing boundless love without end.
Devotion, commitment, vows and love of many kinds are interwoven in this painting. 
 The love of God is represented by the cup, the blood and by the hymns included in the background ("Jesus, Lover of My Soul," "One Who Loves Me," "For God So Loved the World" etc). 

To the right and left of the cup, the couple's marriage vows are incorporated.  They speak of undying devotion and loyalty.
 I try to always include my favorite number, 3 in my work.  In this particular piece, located to the lower right of the cup, it represents the family's love for their three children.
Another level of emotion is incorporated when one considers that the hymn pages and the vows themselves came from the patron's father. In this, a father's love is also displayed.
I hope this piece reminds those who see it, that there truly does exist a love without limits.