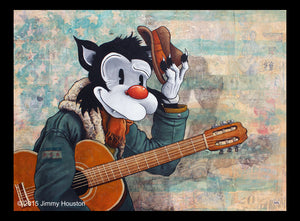 2015
Mixed Media on Canvas   
30 x 40 x 1.5 in
Original 
This piece evokes the spirit of the early American folk singer, the vagabond poet who sings the voice of the people.
It is homage to Woody Guthrie, the man whose words remind us that America is our land. It is also a tribute to Bob Dylan, whose songs spread a message of protest and freedom to his generation.
The pale blue stars and stripes fade into the background like a ghost image. In the top right corner stands Woody Guthrie, himself ghost-like with his guitar that says '"This Machine Kills Fascists."
To the left sits Bob Dylan, like a devil on the cat's shoulder. A tattoo sparrow, sits deep in the background, also singing a song of freedom.