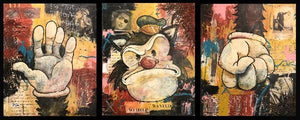 2018
Mixed Media - Acrylic on Wood Triptych   
10 x 12 in
Original
The title of this triptych refers to the haunting old song performed by Tennessee Ernie Ford. When I think of Roman, the rough, road-raised biker cat, I hear this tune. He may not have shoveled coal in the mines like the man in the song, but he is a blue-collar fellow who has certainly spent a life time earning his stripes.
He's a force to be reckoned with and a folk legend unto himself. His hands speak volumes, scarred, weathered, thick and worn.
"One fist of iron, the other of steel. If the right one don't a-get you, then the left one will."
-Sixteen Tons written by Merle Travis