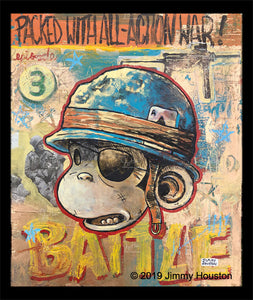 2019
Mixed Media- gold spray paint, gold mica powder, acrylic, oil pastel and paper on wood
10 x 12 in
Original
High gloss and textured, flecks of gold glint off the scrapes and dents in Rig's helmet. His face bears scars from previous skirmishes. A thick red bloodline separates Rig from the wartime symbols in the background.
I chose to render his helmet in blue and orange instead of the classic olive drab. I did this to distinguish his fight from any specific time period or conflict.
The battle is whatever you face, whatever conflict you find yourself up against. The battles are worth fighting and the victories are worth the scars.