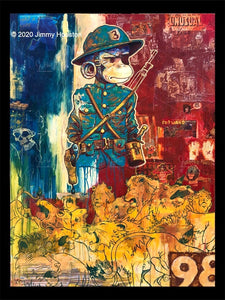 CONTACT FOR PRICE
2020

Mixed Media, acrylic, fabric, found paper, oil pastel and graphite on canvas
36 x 48 x 1.5 in
Original
Gallery Wrapped
The first image that presented itself, over and over, in the creation of this piece was the lions, the pile of swarming, roaring, mustard-colored, cartoon lions. These are the culmination of conflicts, hurdles and odd circumstances life throws. Rig stands, resilient, confident, bold, patient and equipped. His gun, a shadow weapon of the soul. His uniform, a declaration of bold blue determination. His helmet, a protector of the mind.

The "98" in the bottom right corner is not a perfect "100." It's okay to be good enough. It's also a psalm of deliverance. To the left, the death head has idol money on his mind. The lions are what you need them to be, with their scattered roars and dull teeth.

This piece is about standing your ground, moving forward, striving for dreams no matter the obstacles. It's about the "unusual tales" and trials we face and how we overcome. Stand strong, carry on.