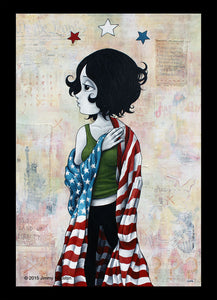 2015
Artist Proof Giclee on Canvas  
36 x 24 in
Edition Size 50
Gallery Wrapped
Pledge features East, one of Jimmy's recurring characters in a more somber  setting. She is an independent girl with a rebel spirit. She plays the role of a modern lady liberty well.
She stands strong, clothed proudly in the stars and stripes, hand over her heart. Her gaze is distant and contemplative, perhaps looking into the country's future or remembering its past.
"We the People" is etched like smoke in the top left hand corner, a reminder of our country's beginnings. The statue of liberty stands in a slight fog, in front of East, laced with the scaffolding that originally put it in its place. Note the signature eye patch obstructing lady liberty's vision.