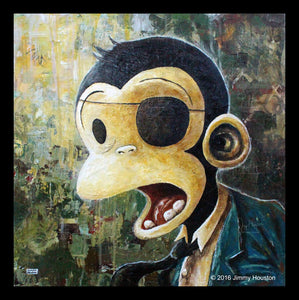 2016
Mixed Media on Canvas   
20 x 20 x 1.5 in
Original
Gallery Wrapped
A feeling that is seldom truly felt in these times, defined by words hardly spoken anymore: wonderment, amazement, astonishment, reverence, and bewilderment. Words do their best to explain the exclamation mark in one's mind and heart.
This is another piece that has pushed me into a new and wonderful realm of technique. When viewed in person, the thick peaks of pigment and the fine ridges of each brushstroke are tempting to touch.
Rig, caught dumbstruck in the moment of revelation. An alarming epiphany strikes him in warm light. The heavier tones, the impasto marks of the pallet knife and the buried paper images illustrate his jumbled thoughts. They are the heaps of information that crowd the mind.
At the bottom left, the eye of the beholder looks on. It represents the influence of our ideas, all those who are watching, for better or for worse.
Every once and awhile it is refreshing to have the clutter peeled back and bask in the warm light of fresh inspiration, to be surprised again for the first time.